---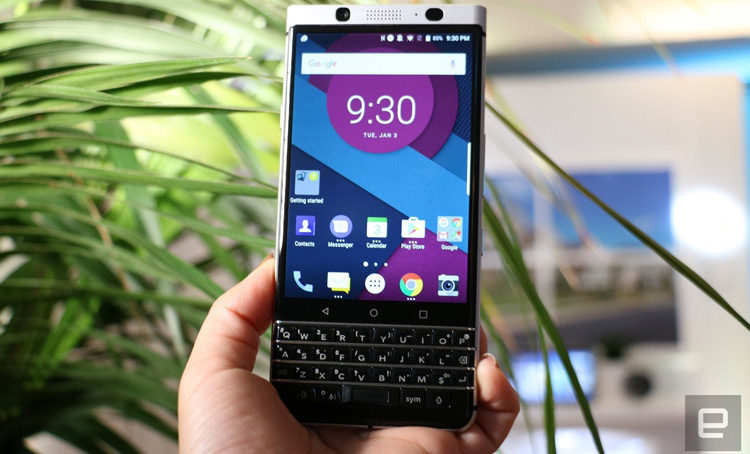 It's been less than a month since BlackBerry confirmed its licencing agreement with TCL Communication, in which the latter company would develop and distribute BlackBerry-branded devices.
Now, the first result of the BlackBerry/TCL partnership has been (somewhat) revealed: a brand-new, Android-powered smartphone, unofficially known as the BlackBerry Mercury.
The device has been unveiled at CES 2017, and while there's a few things we know for sure about the latest BlackBerry phone, there's still plenty of details that, so far, have yet to be confirmed – including the product's final name.
The currently code-named Mercury combines your standard metal smartphone body, with the full QWERTY keyboard that's attracted so many tech enthusiasts to BlackBerry products.
Unlike 2015's BlackBerry PRIV, the Mercury doesn't hide its physical keyboard under a sliding panel, and this time around users will find a fingerprint sensor built-in to the space bar. While the keyboard's addition means you'll compromise some screen length, you can swipe along the keys via 'capacitive touch' in order to navigate through on-screen items.

The Mercury will also apparently run Android 7.0 Nougat, although there's no confirmation if the device will feature 7.0 or 7.1 out of the box. Aside from this tidbit, BlackBerry isn't giving much else away – standard specs such as battery capacity, cameras, and processor will likely remain a secret until Mobile World Congress in late February.
Rumors so far suggest a 3400 mAh battery, 32GB of RAM, a 1080 x 1620 display, and 32GB of storage size – but again, it's all just speculation until TCL or BlackBerry unveil what's actually under the hood. Also yet to be revealed? The device's pricing, launch date, and expected availability.
For BlackBerry diehards who can't live without that physical keyboard, the Mercury looks set to be an exciting release. Here's hoping the final product can live up to fan expectations.
Image credit: Cherlynn Low @ Engadget
Video credit: CrackBerry
---